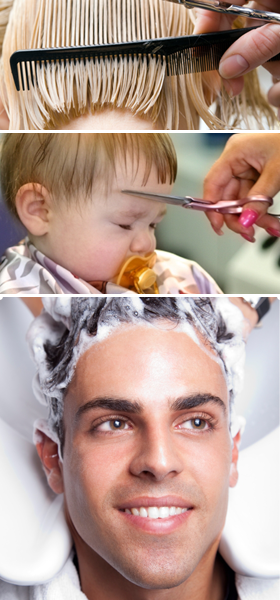 services
Trends in hair are ever-changing and, at The Haircutters, we believe in staying on the cutting edge of them all.
That is why our expert stylists are trained and skilled to provide our fashion conscious customers with the most up-to-date styles and services in haircare. Whether you are looking for a simple haircut or to color and straighten, The Haircutters will meet all your haircare needs and exceed your expectations.
---
---
Chemical Services
---
Keratin Complex Smoothing Therapy
Varying per length of hair, starting at
$200.00
Regular Perms
Short (To Jaw)
$50.00
Medium (To Shoulders)
$60.00
Long
$75.00
Extra Long
$85.00 & Up
Partial Perms
10 Rods or Less
$30.00
Spiral Perms
Short (To Jaw)
$70.00
Medium (To Shoulders)
$85.00
Long
$100.00
Extra Long
$115.00 & Up
Remove Perms
$20.00 to $30.00
Please note that service prices could vary with location.
---